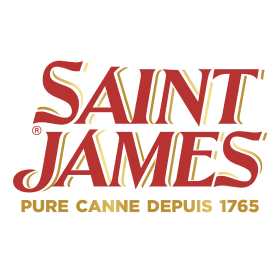 Depuis 1765, les Plantations SAINT JAMES produisent des rhums d'une rare qualité au sein de l'univers prestigieux de l'A.O.C Martinique, seule A.O.C en rhum au monde. Cette distinction traduit leur typicité et le lien intime entre terroir et savoir-faire. N°1 mondial des rhums A.O.C et N°1 en Martinique, SAINT JAMES est aujourd'hui une référence dans l'univers des rhums avec une grande variété de rhums pure canne : rhums blancs frais et fruités, rhums paille aux légers reflets dorés, rhum ambré au bouquet original, rhums vieux et hors d'âge subtils, riches et harmonieux. Les rhums SAINT JAMES s'associent parfaitement à tous types de cocktails, des plus simples aux plus élaborés.
The opinion of the expert
"Saint James est le seul rhum agricole à posséder sa culture de cocktails historique et ceci depuis la publication de la méthode d'Emile Lefeuvre en 1889. Saint James est devenu le rhum agricole incontournable de la mixologie et innove encore en lançant le premier Bitters à base de son rhum agricole et d'une recette crée en s'inspirant des traités de distillateurs et de pharmaciens du XVIII et XIX siècles."
Stephen Martin, Brand Ambassadeur Saint James
Discover our other brands